ABOUT PAL
Proceeds from SCRABBLE With The Stars go directly to the Performing Arts Lodge, Toronto, or PAL as it's known in the community. PAL is the first organization of its kind in Canada. Dedicated to providing affordable housing and care for members of the entertainment industry, PAL offers assistance to members in the areas of health, well-being and affordable accommodation.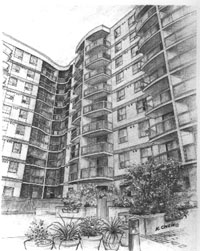 Located downtown on The Esplanade, PAL Toronto operates PAL Place, a unique subsidized accommodation complex that many of Canada's esteemed artists call home. This allows our residents to live independently in a friendly environment with other members of the performing arts industry.
PAL's equally unique voluntary service, Supporting Cast, is available to ailing or aging performing arts professionals throughout the GTA, as well as within PAL.
"These artists have given us so much through their work – and they deserve to remain here at their PAL home, living independently with respect and dignity – instead of having to move to a complete-care facility," said PAL President, Ken Gass. "The funds we raise through SCRABBLE With The Stars are earmarked for efforts to help provide extended care to those within the PAL community who have become too fragile to care for themselves in their own PAL apartments. All are show biz veterans who have spent their lives entertaining you and keeping you informed. Now they need your help."
To find out more about PAL, go to their website.